My name is Božidar Grilc and I am a hypnotherapist based in Slovenia, a small country in the heart of Europe. When I started my career in the early 2000s, hypnosis was not a widely accepted practice in Slovenia.
People still held onto outdated beliefs from the 60s that hypnosis involved being controlled by someone else. However, I have seen a positive shift in attitudes toward hypnotherapy in recent years.
When I started my career as a hypnotherapist in Slovenia in the early 2000s, hypnosis was considered taboo. People had outdated ideas from the 60s that hypnosis involved being controlled by someone else.
However, times have changed and most people now recognize hypnosis and hypnotherapy as effective methods for personal change. Whether it's overcoming a phobia or giving up smoking.
I was the only professional hypnotherapist for years, which led to a high number of clients. To take things further, I founded the first hypnotherapy school in Slovenia in 2006. This allowed me to pass on my knowledge to future generations and expand the field of hypnotherapy in my country.
I joined Gerald Kein's educational program in 2008, which perfectly complemented my education in hypnotherapy.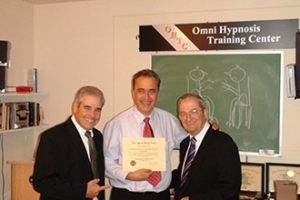 Subscribe and join the community!
In 2009, I started an educational program for hypnotherapy in Italy. My colleague Vittorio and I conduct two trainings every year. It's been a great experience expanding our program to our neighboring country.
In the same year, I also opened a hypnosis school in Bihać (Bosnia and Herzegovina). Wonderful people and a great experience.
In 2010, however, I started teaching in Zagreb (Croatia), where hundreds of people were educated.

I am happy that the majority of successful hypnotherapists in Slovenia, as well as in Croatia, are from my school program.
To raise the quality of education, I invited a couple of well-known people from the world of hypnotherapy to visit us in Slovenia.
In 2012, I organized the first congress of hypnotherapists in Zagreb, and then in Slovenia in 2013.
In 2013, we invited Larry and Cheryl Elman. Larry is the son of the legendary Dave Elman, who laid the foundations of modern hypnotherapy. The couple, with whom we have become good friends, conducted several days of extremely high-quality hypnotherapy training.
In 2014, we also invited Roy Hunter, a well-known hypnotherapist and founder of the Parts Therapy approach. A wonderful seminar with a lot of new knowledge and experience
Every two years, I provide my students with refresher training, where we process new information. That helps us stay up-to-date and improve our skills.
Corona changed our socializing a bit and we moved to Zoom for a while.
But we are going back to the classic gathering.
My life is everything I've ever wanted thanks to hypnosis and hypnotherapy.
I've made new friends, learned a lot, and grown both personally and professionally.
If you are looking for new life challenges, the path of a hypnotherapist is definitely right for you.
Join me.